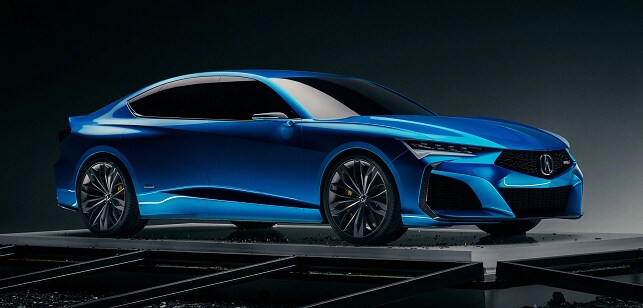 The Type S Concept defines a new generation of design and performance. Representing the future of Acura's return to Precision Crafted Performance, which started with the debut of the second-generation NSX, the Type S Concept gears up for the re-introduction of Type S performance variants to the Acura line-up, and will profoundly influence the character of the upcoming, 2nd-generation TLX Type S.
The History of The Type S Concept
Since its debut in 2001, the Type S badge has been recognized around the world as a symbol of Precision Crafted Performance. Acura engineer and design teams set out to express the core of Precision Crafted Performance through attitude and style proportion, crafting a silhouette that is powerful and expressive, yet clean and unified.
A fundamental step in fulfilling the promise of Precision Crafted Performance, Acura will introduce 2 Type S performance variants in the next 2 years, starting with the TLX Type S. Type S models will deliver a high-performance driving experience with faster acceleration, agiler handling, and sturdier braking performance than conventional Acura models. From 2001 to 2008, 4 Type S models set the standard for Acura performance in Canada:
2001 - 2003 Acura 3.2CL Type S
2002 - 2003 Acura 3.2TL Type S
2002 - 2006 Acura RSX Type S
2007 - 2008 Acura TL Type S
The Type S Design Concept
The Type S Concept is characterized by a wide track and low stance, with an expansive hood that stretches forward. It features clean, muscular lines, quad exhaust outlets and the iconic Type S badge. Building off its powerful stance, the Type S Concept's front fascia reflects both form and function. Large center and side intakes are proficient in supplying required airflow to a high-performance engine and brake package, with fascia detailing evolved from the NSX and Acura Precision Concept. The headlights are emphasized by translucent white "Chicane" LEDs that serve as running lights and turn signals.
A sharp and distinctive tail features an upswept decklid with a sharply creased centerline and integrated forged carbon spoiler. "Chicane" LED taillights, a large rear diffuser and quad chrome exhaust outlets are defining features that complete the look. In addition to the rear decklid spoiler, forged carbon is applied to the front and rear splitters, side sills, rear decklid spoiler and multi-spoke 21-inch wheels.
The Type S Concept showcases new elements of Acura design including next-generation, four-lamp Jewel Eye LED headlights, an open-surface Diamond Pentagon grille, and "Chicane" daytime running lights and taillights, both inspired by the Acura ARX-05 Daytona Prototype race car.
Want To Learn More About The Future of Acura?
Contact us for more information on future Acura vehicles built on the Type S concept, and browse our inventory of used vehicles to find the Acura you want with the Type S badge.