---
Established in 1987, Erin Mills Acura was one of the originating Acura dealerships in Canada and is proud to service the GTA with superior customer service that keeps our customers coming back.
We have industry professionals in all areas of our dealership! From Sales to Service, we have the friendly and knowledgeable staff that can answer your questions and help you find what you're looking for.
Whatever budget or credit you have, our staff will work with you to find options that fit your lifestyle. At Erin Mills Acura, we will show you how we make your customer experience as unique as you are. Whatever you may be interested in, Erin Mills Acura has options for you.
Our friendly service staff is here to help you upgrade or repair your vehicle as soon as possible. Our Service Department is up-to-date with all the latest tools and technology to help service you better. For over 30 years, we have proven ourselves to our customers again and again by offering a top tier experience that has earned us the designation of an A.C.E dealership. Our staff has been compiled of top-trained technicians and knowledgeable sales staff that will go to work for you.
Erin Mills Acura is located inside the Erin Mills Auto Centre in Mississauga, ON.
We have now been awarded the 2020 Consumer Choice Award. This is true testament to our dedication to our customers. Thank you to our wonderful staff and customers who made this possible.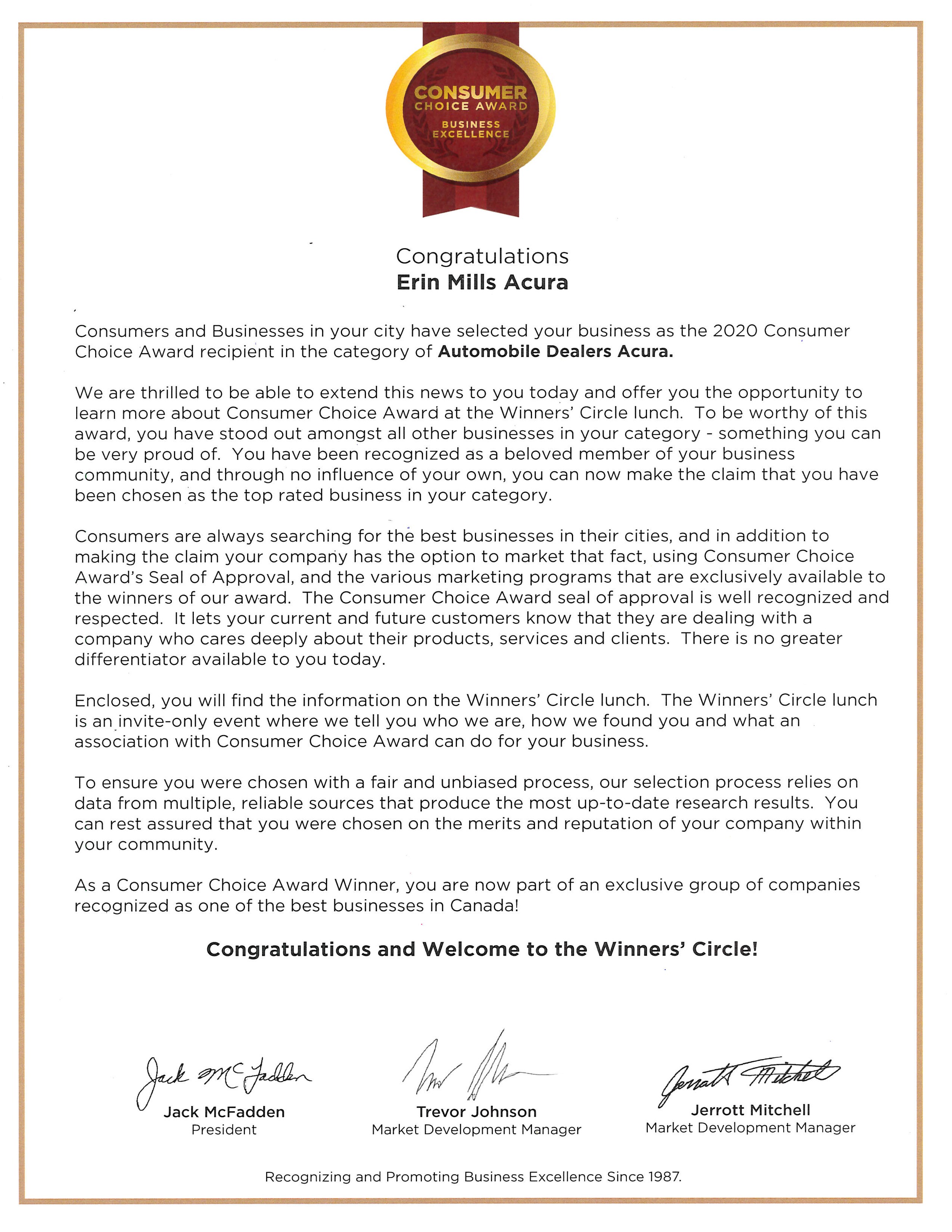 Hours
Monday

9:00 AM - 8:00 PM

Tuesday

9:00 AM - 8:00 PM

Wednesday

9:00 AM - 8:00 PM

Thursday

9:00 AM - 8:00 PM

Friday

9:00 AM - 6:00 PM

Saturday

9:00 AM - 6:00 PM

Sunday

Closed
See All Department Hours
Dealership Hours
Monday

9:00 AM - 8:00 PM

Tuesday

9:00 AM - 8:00 PM

Wednesday

9:00 AM - 8:00 PM

Thursday

9:00 AM - 8:00 PM

Friday

9:00 AM - 6:00 PM

Saturday

9:00 AM - 6:00 PM

Sunday

Closed
Parts Dept. Hours
Monday

7:30 AM - 5:30 PM

Tuesday

7:30 AM - 5:30 PM

Wednesday

7:30 AM - 5:30 PM

Thursday

7:30 AM - 5:30 PM

Friday

7:30 AM - 5:30 PM

Saturday

8:00 AM - 5:00 PM

Sunday

Closed
Service Dept. Hours
Monday

7:30 AM - 5:30 PM

Tuesday

7:30 AM - 5:30 PM

Wednesday

7:30 AM - 5:30 PM

Thursday

7:30 AM - 5:30 PM

Friday

7:30 AM - 5:30 PM

Saturday

8:00 AM - 5:00 PM

Sunday

Closed